Now Available: SAGE Health Storylines Self-Care App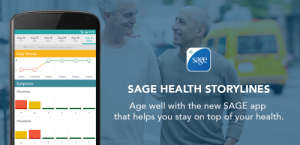 The SAGE Health Storylines self-care app makes it easy for older adults living with HIV and AIDS—and their caregivers—to track their health. A variety of tools, including a medication tracker, a mood tracker, and a symptom tracker, allow you to build your health story. The My Storylines feature allows you to learn more about your health, and to share more—safely and securely—with your doctor about what happened between visits.
This app was designed in partnership with SAGE and Self Care Catalysts and is powered by the Health Storylines™ platform from Self Care Catalysts Inc.
You can customize your app with several self-care tools such as:
Medication Reminders
Symptom Tracker
Daily Mood Tracker and Journal
Vitals Tracker (Weight, Blood Pressure, etc.)
Ability to sync with wearable devices (e.g. Fitbit)
By using SAGE Health Storylines, you have the opportunity to anonymously contribute learning from your story to a vital data resource that helps researchers improve care in the future for people like you.
Need help getting started? Send an email to support@healthstorylines.com.
The FREE app is available for iOS and Android devices. You can also use the web version on your desktop computer by clicking here.