SAGE is joining thousands of LGBT activists at this year's Creating Change conference
[New York, NY] – On Thursday, January 24, in collaboration with the National LGBTQ Task Force, SAGE CEO Michael Adams honored Cornelius Wilson Jr., a remarkable Detroit LGBT community organizer and leader, for an extraordinary lifetime of achievement in working to advance LGBT rights and support LGBT communities.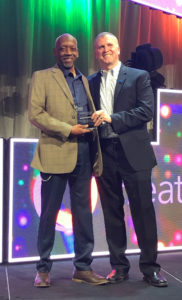 Adams presented Cornelius with the Creating Change SAGE Advocacy Award for Excellence in Leadership on Aging Issues. The award was given during Creating Change, an annual gathering that brings together thousands of visionary LGBT leaders from across the country. The event takes place from January 23-27 in Detroit, Michigan.
Cornelius has been a revered community organizer and leader for decades. As an HIV counselor during the 1980s AIDS epidemic, Cornelius noticed that many Black men were not receiving the services they needed and too many were dying. He soon founded the Men of Color Motivational Group to better engage the Black community about HIV awareness and provide more community support. He later went on to work at Target Population Services (TaPS) for persons in recovery seeking support, and served as program director for Guiding Light Sober Living. In June 2017, Cornelius received SAGE Metro Detroit's Lifetime Achievement Award. In May 2018, he received a gubernatorial congratulatory recognition and Michigan statewide Senior Citizen of the Year Award from Michigan's Aging and Adult Services.
"SAGE is a big part of who I am and where I'm going in my life, and I am honored and humbled to be acknowledged with this award," said Cornelius. "I love my community, and I hope that through all I do, and through those I assist, I show that. I think it's important that my peers see that there is someone out there with a voice, who has lived a similar life, and can help advocate for them. I'm a strong believer that actions speak louder than words. We can't just talk about what we'd like to see changed. We have to act to make it happen."
This year, as we celebrate the 50th anniversary of the Stonewall uprising, SAGE is highlighting our nation's LGBT elder pioneers, who helped launch the LGBT movement and are still fighting for the right to live their lives openly and with dignity and respect as they age.
SAGE is presenting a series of workshops and trainings at the Creating Change conference, with a focus on bridging the gap between younger and older LGBT generations, and elevating the national conversation to include LGBT elder issues in the continued fight for full freedom, justice and equality for all LGBT people.
"It is an honor to recognize Cornelius with this SAGE Advocacy Award, and we applaud his extraordinary efforts as a tireless LGBT activist, dating back to the AIDS crisis, when so many in our LGBT community were dying and in desperate need of resources and support," said SAGE CEO Michael Adams. "This year, on the 50th anniversary of the Stonewall uprising, we are lifting up people like Cornelius, who have been the backbone of our modern LGBT movement since it began five decades ago."
###
SAGE is the country's largest and oldest organization dedicated to improving the lives of lesbian, gay, bisexual, and transgender (LGBT) older people. Founded in 1978 and headquartered in New York City, SAGE is a national organization that offers supportive services and consumer resources to LGBT older people and their caregivers. SAGE also advocates for public policy changes that address the needs of LGBT elders, provides education and technical assistance for aging providers and LGBT community organizations through its National Resource Center on LGBT Aging, and cultural competency training through SAGECare. With staff located across the country, SAGE also coordinates SAGENet, a growing network of affiliates in the United States.