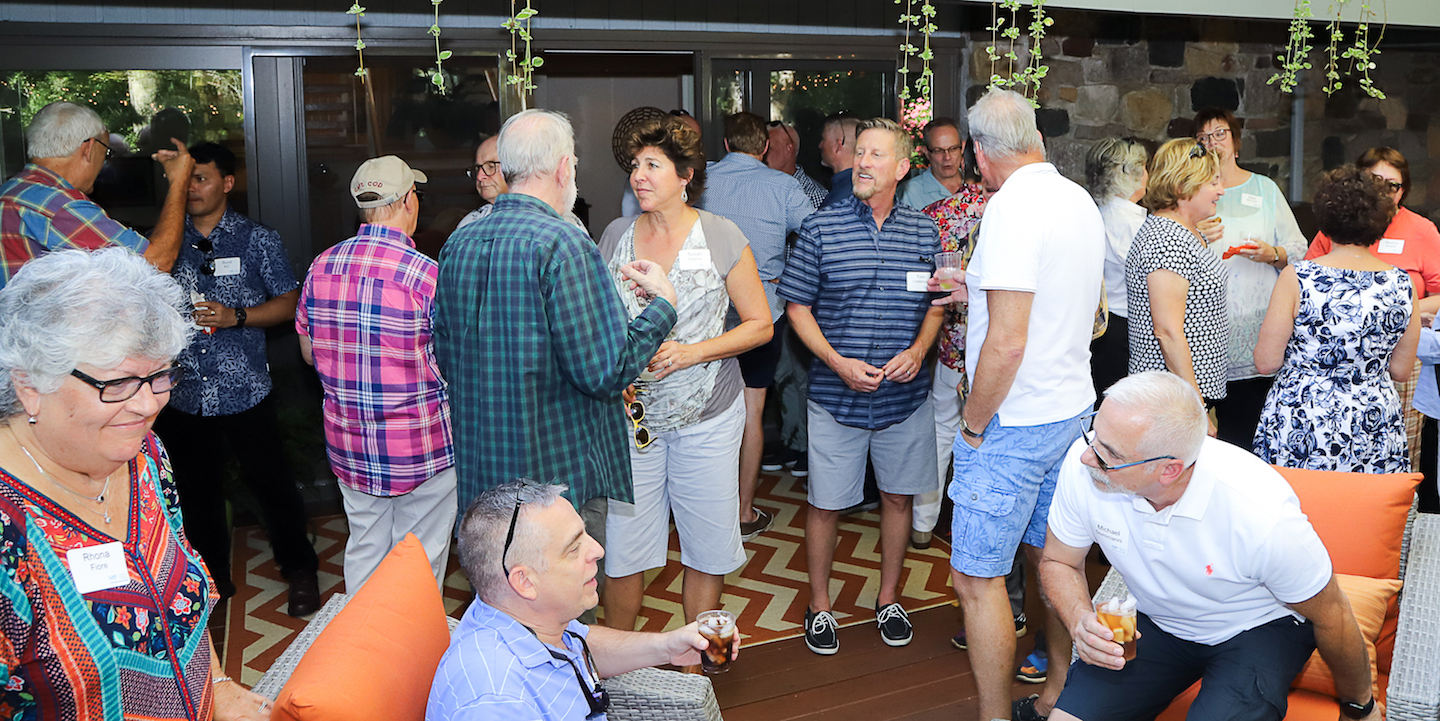 Honor LGBT pioneers in the Garden State this fall
EVENT DETAILS
Join us for drinks and a light brunch with SAGE supporters in Asbury Park to celebrate our LGBT pioneers. At the reception, SAGE CEO Michael Adams will share updates from our work in the Garden State, and the head of our SAGE Jersey City affiliate will share his firsthand experience about how SAGE has enriched and impacted his life and the constituents he serves. Your attendance furthers SAGE's work, assuring that our LGBT pioneers can continue to thrive.
SAGE & Friends New Jersey Host Committee
Craig Hutchison & Christopher Lodewyks, Co-Chairs
Barbara Peda, Co-Chair
Laurie Peter, Co-Chair
Bob Bernstein & Sunil KC
Bert Bueno
Gordon Sauer
Michael Schaible & Tom Lindeman
Kendall Walton
Sharon C. Worosilo, MD
SPONSORSHIP OPPORTUNITY
In the current political climate, LGBT older Americans are at risk of losing some of their hard-fought rights. As the leading organization advocating with and providing services to LGBT older adults, SAGE stands proudly with our LGBT pioneers—the people who have been fighting for decades for their right to live with dignity and respect. We hope that you will join us as a sponsor as the proceeds of SAGE & Friends New Jersey are essential to SAGE's ability to meet the increasing demand for services and advocacy for LGBT older adults, both in the Garden State and across the country. Purchase sponsorships for SAGE & Friends New Jersey.
For more information about sponsorships, email Joey Wasserman or call 212-741-2247 x288.
Thank you to our sponsors!
Presenting
Christopher Lodewyks & Craig Hutchison
Palladium
Sharon C. Worosilo, MD
Gold
Barbara Peda & Sandy Anton
Laurie Peter & Betsy Bernard
Freehold Subaru
Silver
John Alchin & Hal Marryott
Michael Schaible & Tom Lindeman
Donna Griffin & MaryAnn Vitiello
Frank Stark
Claudia Miller
Catherine Stewart & Lynn Dukette
John Keller & Helen Kroh
Richard Marfuggi & Andrew Ruffo
Jeffrey Allison & James Lomax
Bronze
Gina Genovese
Gordon Sauer
Lisa Davis
David Mozes
Regina Egea
Susan Owens
Valli & Thomas Re
David Denning & Anthony Curreri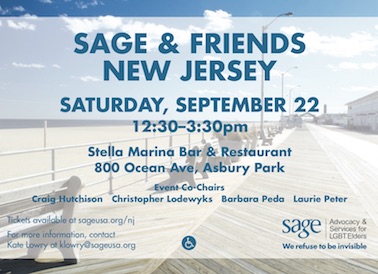 September 22, 2018
12:30pm to 3:30pm
Stella Marina Bar & Restaurant
800 Ocean Ave., Asbury Park, NJ