Faith, Hope and Justice: A Conversation With Bishop Tonyia Rawls
This post originally appeared on The Huffington Post blog on March 16, 2016. Read the original post here.
By Susan Herr
Held in partnership with the Freedom Center for Social Justice, a day-long SAGE storytelling training in North Carolina recently convened LGBTQ+ activists, aging service providers, movement builders and faith leaders. SAGE's Susan Herr sat down with Bishop Tonyia Rawls to talk about the social justice mission of the Freedom Center, founding a church, and becoming an elder in a community of faith.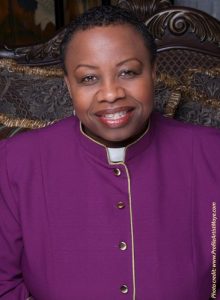 SH: The Freedom Center has partnered with SAGE for three years as part of the SAGE Story project. Let's start by talking about the work of the Freedom Center.
BR: The Freedom Center for Social Justice works at the intersection of race, faith, gender identity/expression and social justice. We are committed to the growth, safety and empowerment of the LGBTQ+ community. Our mission is accomplished through education, programs, partnerships and advocacy. We have three major programs.
The first is the Do No Harm campaign which asks clergy, public officials and small business owners to sign the Do No Harm Pledge promising that they won't use religion or religious text to create un- safe spaces or violate the law.
Second is the Transgender Faith and Action Network, which is a social network for trans people of faith and allies. It is currently in the testing stage and will have its national launch in spring 2016. The network will provide resources, research, opportunities for connection and tools to build stronger trans-affirming spaces on the ground. We also host an annual transgender retreat that offers an opportunity for refreshing, learning and strategizing.
Finally, we work with key partners like SAGE, NAACP, Southerners on New Ground, Campus Pride and others who share our vision of a world where equal protections and opportunities exist for all.
SH: I was lucky enough to meet you and to learn more about the Freedom Center at this year's Storytelling Summit in Charlotte. Tell me about the SAGEStory partnership between Freedom Center and SAGE.
BR: We have captured the stories of more than 30 LGBTQ+ seniors through these summits, many of which we included in a mini documentary produced by the Freedom Center organizer AJ Williams called "Quiet As It's Kept." The majority of participants are people of color. However, the group is diverse. The 2014 and 2015 cohorts went through a 6-week training period and learned the skills needed to not just tell their stories, but to turn those stories into positive change and power.
SH: The keynote speaker for this year's event was the Reverend Nelson Johnson, Pastor of the Faith Community Church. He described his decades-long journey from homophobia to the leadership role he now uses to counter oppression of LGBTQ+ people in some Christian denominations. As a recovering fundamentalist myself, I was moved to tears by his story. Why did you invite him to be the keynote speaker?
BR: One of the things we are committed to is not working in silos. While we are unapologetic about our work with and for LGBTQ+ people, our general concerns are bigger than that. He may be a Black preacher who once held fundamentalist anti-gay views, but he is also an elder who lives in the South. We have far more in common than not. The only way we can cross those bridges to one another is to be willing to let ours down. Reverend Johnson is committed to justice, period. He is a long-time civil rights activist and has been willing to do the often hard work of self-reflection. I honor that part of him, which is why we invited him to share his journey.
SH: You and your wife Gwen moved to Charlotte from D.C. in 2014 to establish Unity Fellowship Church Movement's first flock there. The denomination, founded in 1982, was born from a need to minister primarily to LGBTQ+ Black people during the height of the AIDS crisis. How is the genesis of Unity Fellowship alive in your church today?
BR: Unity Fellowship Church Charlotte was the first church in the denomination to be established in the Bible Belt. The Founder, Archbishop Carl Bean, established a phrase that "God is Love and Love is For Everyone." In 2014, I founded Sacred Souls Community Church, which is now entering the United Church of Christ. We have been able to expand our reach to all of the members of our community in a way that looks beyond race, class, land of native birth and any other measure that keeps people marginalized and oppressed.
SH: Do elders play as powerful a role in your church as they do in other faith communities?
BR: Elders are those 45 and older who play a vital role in every aspect of our ministry. In addition to their experience and spiritual depth, they have skills that can come only with time. I have grown to depend on them as a pastor and they are some of our strongest advocates for spiritual and social justice for all.
SH: Do you consider yourself an elder?
BR: My mom died at 58 years old and my grandmother at 56. They were both amazing women who impacted not only my life but the life of so many others who looked to them for wisdom, guidance and support. At 57, I find myself functioning in a similar role. I celebrate my life and appreciate the opportunity I have been given to share my experiences, resources and support to those coming along. I view this role as an elder as one of the highest honors one can hold. I believe the world needs us.
SH: SAGE works to ensure that LGBTQ+ older people are represented in a wide array of anti-discrimination efforts across the country. North Carolina, where SAGE has two affiliates in addition to our partnership with the Freedom Center, is one of the states where we have focused our efforts. Do you feel hopeful about North Carolina's ability to advance policies that protect LGBTQ+ people of all ages?
BR: North Carolina is going to surprise many people because we have been working together across lines of difference to stand strong against those forces that seek to distract citizens from the real issues that harm them. We also are holding together to reject the notion that the differences between us far outweigh the needs we have as a state. The Freedom Center is working together with groups as diverse as the Latin American Coalition, Time Out Youth, historically Black colleges and other "unusual suspects" to look at politics, justice, faith and hope through a lens of new possibility. LGBTQ+ issues are being taken out of the box and now applied to life in general.
Follow Susan Herr on Twitter: www.twitter.com/herrview. Follow #SAGEStoryLGBT on Instagram.