Did you know? The Feds Just Outlawed LGBT Credit Discrimination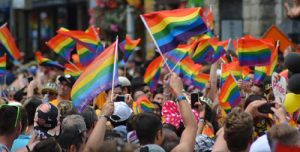 This past June, SAGE asked the Consumer Finance Protection Board (CFPB) whether it "views credit discrimination on the bases of gender identity and sexual orientation … as forms of sex discrimination prohibited under the ECOA." In August, we heard back and the answer (in many words) was "yes."
According to the CFPB, the Equal Credit Opportunity Act (ECOA) outlaws "credit discrimination on the bases of gender identity and sexual orientation."   This guidance effectively bars lenders across the country from discriminating against LGBT individuals when they need credit — whether to buy a house, apply for a credit card, obtain a car loan and any other circumstance relating to credit.  In its letter to SAGE, the CFPB urges people to report "any situations in which creditors treat applicants less favorably" because of their gender identity and/or sexual orientation. You can easily file a complaint on the CFPB's website.
This monumental letter is extremely important to LGBT older people. As SAGE CEO Michael Adams stated in a recent Slate article: "LGBT older people face higher poverty rates than their non-LGBT peers, while facing disproportionate rates of social isolation. This means that they don't always have a support network in place when facing challenges related to finances. The CFPB's clarification with respect to the Equal Credit Opportunity Act moves the ball forward in ensuring that LGBT older people have access to credit on an equal playing field."
We couldn't agree more. In case you're interested, you can read the CFPB's letter to SAGE here.