Celebrating Strength Across Generations
While Pride Month is often seen only for the rainbows and parades, we know it is about much more here at SAGE. Our elders remember a time when the world viewed our community differently, and they fought for generations so that young people today would be able to walk down the street proud of who they are and who they love. These pioneers left a legacy of resilience and compassion that we continue to see today.
This past year, our community has faced devastating effects from COVID-19, especially our LGBTQ+ elders. However, this was not their first pandemic, and despite staying indoors, they refused to be invisible and continued to lend their strength and wisdom to the communities they love. We've been celebrating their power and the strength of our entire community all month long. Strength comes in many different forms – strength of character, personal and professional talents, physical ability, and mental fortitude. As individuals, we all have different strengths, but when we come together, we are #SAGEStrong.
That's why we were inspired to create a project that supports LGBTQ+ artists utilizing their unique strengths to help tell our community's story. The Strength Across Generations Project is a pilot initiative that connects LGBTQ+ artists and elders for a candid conversation about strength and community, both throughout LGBTQ+ history and the past year. These conversations and the elders' insights became the inspiration for a custom piece of art, then gifted to the elder at the project's end.
Check out our Instagram to learn more about the project, the art, and the artists!
Tony by River
(click for larger image)
Diedra by Jeremy
(click for a larger image)
Naomi by Tailz
(click to listen to song)
Orlando by Shaina
(click for a larger image)
Meet the artists!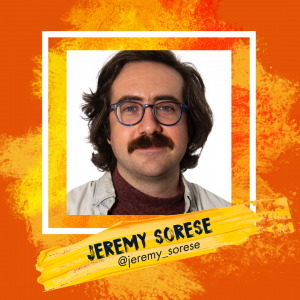 Jeremy Sorese (he/him)
@Jeremy_Sorese
(b. 1988, Berlin) Jeremy is a cartoonist based out of Brooklyn, NYC. After graduating with a BFA in Sequential Art from the Savannah College of Art and Design in 2010, he was accepted to the La Maison des Auteurs, a comics-specific residency program in Angoulême, France, where he lived and worked from 2012 through 2013. His first book Curveball, published with Nobrow in the Fall of 2015, was nominated for a Lambda Literary Award. He is currently finishing a sequel The Short While to be published with Archaia in 2021. He's been teaching art for the past eleven years; from Elementary School children in Chicago to Middle Schoolers in Brooklyn through the after-school program LeAp at M.S.51, to the Maryland Institute College of Art, and most recently at Parsons School of Design. Check out more of his work at jeremysorese.com or on Instagram (@jeremy_sorese)!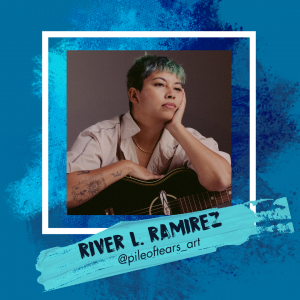 River L. Ramirez (they/them)
@pileoftears_art / @Pileoftears
River is a Brooklyn-based artist, comedian, and writer who wrote, produced, and directed the comedy special program "Pervert Everything" for Cartoon Network's Adult Swim. Ramirez has appeared on the HBO comedy series 'Random Acts of Flyness' and in the final season of Comedy Central's 'Broad City'. Ramirez has written for High Maintenance, The National Lampoon Radio Hour. Ramirez can be seen on a recurring role in the HBO comedy series 'Los Espookys' opposite Fred Armisen, opposite Glenn Close in John Cameron Mitchell's musical anthology podcast 'Anthem', and featured as Charly in Adult Swim's BIRDGIRL.  Named one of Comedy Central's 'Up Next' Comedians for 2018, Ramirez was featured in the San Francisco 'Cluster Fest' comedy festival, and performed at the Public Theater in New York as part of the January 2019, 'Under the Radar' Festival. Ramirez has performed at Caroline's, UCB, Ars Nova, The Chris Gethard Show, and the Brooklyn Comedy Festival, and many more! Check out more of their work on Instagram (@pileoftears_art) and online (@pileoftears)!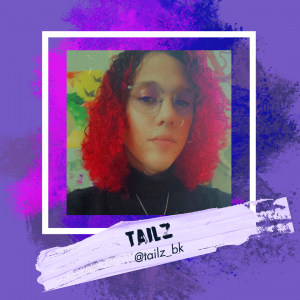 Tailz (she/her)
@Tailz_bk
Tailz is a multimedia artist born and raised in Brooklyn, New York with an affinity for various sounds and visuals, often combining synthesizers with samples and video recordings from the world and culture around her. After so many releases in the last couple of years, "Getting Better" (the piece composed for this project) is a track inspired by the resilience it takes to simply exist as an LGBTQ++ person in our society, and how beautiful it can be to have the freedom to be yourself. You can find this and other projects at http://tailz.net or on Instagram (@tailz_bk)!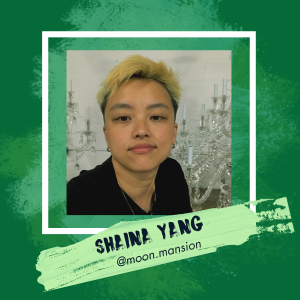 Shaina Lee Yang (she/they)
@moon.mansion
Shaina is a multidisciplinary artist with a background in sculpture and drawing. She/They are an Ohian born, California raised, Taiwanese cultured, Chinese rooted first generation American based in Brooklyn, New York. Their work focuses on interconnectedness, queer experiences, and stream of consciousness. See their portfolio and past shows at shainayang.com!
Meet the elders!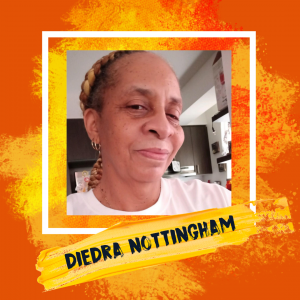 Diedra Nottingham (she/her)
Diedra was born in Brooklyn and currently lives in Stonewall House, an LGBTQ+-friendly elder affordable housing development in Fort Greene. She is the proud mother of a daughter and has five incredible granddaughters who live in Seattle, WA. Diedra has worked as a caterer, secretary, child-care provider, teacher assistant, and owned her own company with two other women for several years. Since retiring, she has been enjoying her time relaxing and visiting family.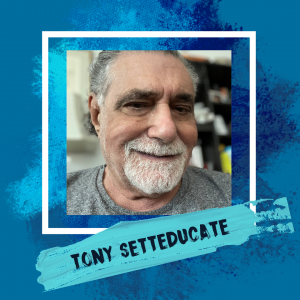 Tony Setteducate (he/him)
Born in Brooklyn, educated around the world. In his teens, Tony wanted to be an artist but his family didn't support that goal. He ended up pursuing advertising and journalism, writing a column covering the Fire Island Pines for a local paper during the '90s. Now he spends his time making art.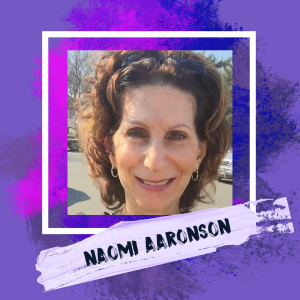 Naomi Aaronson (she/her)
Naomi MA OTR/L CPI is a proud SAGE member, occupational therapist, and Pilates instructor. Naomi is an adventurous person who enjoys paddle boarding, traveling, Broadway, exercise, movies, Pilates, and her cat Luna.  Presently, she teaches part-time at Suffolk Community College in the OTA department. She welcomed the opportunity to connect with the young people of the LGBTQ++ community and valued sharing in our common values, goals, and creative energy.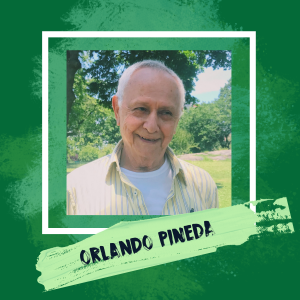 Orlando Pineda (he/him)
Orlando was born in Columbia before moving to San Francisco, where he worked in hospitality before becoming a barber. A creative in his own right, he also assisted the fashion designer Helga Howie. After becoming a caretaker for his mother, he eventually moved to NYC. He has since retired, and has found community at SAGE where he attends painting classes and other events.  In his spare time he enjoys reading, going to music concerts, and practicing Buddhism.