Bringing LGBTQ+ Elders and Youth Together
By Vera Lukacs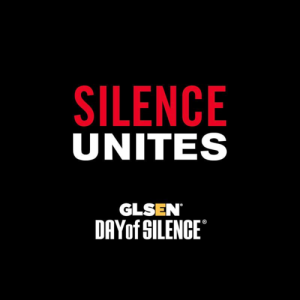 On April 15, students from all over the globe will take a vow of silence to raise awareness of bullying, discrimination and harassment against LGBTQ+ youth. GLSEN's Day of Silence started in 1996 by Maria Pulzetti, a student at the University of Virginia. By 1997, the Day of Silence had spread across the nation to 100 colleges. Today it's an annual event held around the world, reaching more than 10,000 registered students.
This student-led protest is a beautiful example of how youth and their allies are banding together to take on the issues facing LGBTQ+ youth and young adults. But what about bullying against LGBTQ+ elders? This happens all too often, especially in housing and care facilities where LGBTQ+ older adults are vulnerable to discrimination and harassment.
LGBTQ+ Older Adults in Long-Term Care Facilities: Stories from the Field reports on a survey of 769 individuals taken in 2011. About half of the participants reported 853 instances of abuse by staff at their long-term care facilities. One participant, Sam a 51-year-old LGBTQ+ rights activist with experience in long-term care facilities said, "LGBTQ+ elders…are forced to remain hidden, and when placed in long-term care facilities, become even further isolated." It is vital that LGBTQ+ older adults and their families and friends seek inclusive long-term care facilities.
Bullying in long-term facilities causes so much discomfort that in some cases LGBTQ+ older adults are forced back into the closet. According to the 2015 report, From Social Bullying in Schools to Bullying in Senior Housing A New Narrative & Holistic Approach to Maintaining Residents' Dignity, "Seniors in assisted living, skilled nursing, and memory care are vulnerable to resident-to-resident social bullying in ways that can make their living situations uncomfortable and, in some instances, intolerable. Oftentimes they are unable to remove themselves from situations, and may not even be able to communicate how they feel toward others in their community, causing great anguish."
Luckily, the country is moving toward providing more inclusive and safe housing for LGBTQ+ older adults. Just last month, the Lavender Courtyard, an LGBTQ+ intergenerational housing facility, received nearly $3 million from the Sacramento City Council.
Bullying against LGBTQ+ elders or youth is never right. Thanks to the Day of Silence, bullying against LGBTQ+ youth is addressed in a peaceful, yet powerful way. Let's take this annual protest and safe and inclusive housing initiatives for the LGBTQ+ community as examples of how to support one another.
Vera Lukacs is a digital media assistant at SAGE. Learn more about GLSEN's Day of Silence and the Lavender Courtyard project online.