Empowering LGBTQ+ Elders to Age Their Way
It's Older Americans Month! Every year, the Administration for Community Living (ACL) leads this special month with the goal of ensuring that older adults are "able to live where they choose, with the people they choose, and with the ability to participate fully in their communities" for as long as possible. Of course, members of our community are aware that this straightforward mission becomes complicated quickly for our LGBTQ+ elders and their caregivers.
SAGE and partners are working hard to ensure that our elders have the resources they need to age with dignity and respect. This year's OAM theme, Age My Way, asks us to focus on the ways our elders can age in place and stay in their homes and communities. Below, you can find a list of the unique challenges our community faces and the ways we can support our elders in overcoming them.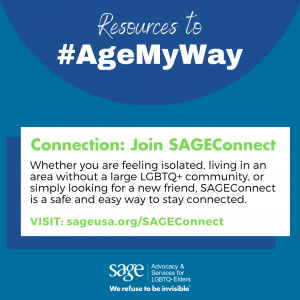 Combatting Isolation
In addition to LGBTQ+ elders often experiencing alienation from biological family, they are also 4x less likely to have children and 2x as likely to be single. These realities exacerbate the social isolation that elders in every community struggle with. In fact, 59% of LGBTQ+ elders report feeling a lack of companionship, and 53% report feeling isolated from others.
Especially since the onset of the pandemic, virtual services to connect our community members are getting easier to access. Here at SAGE, elders can participate in SAGEConnect, a phone-buddy program that elders can utilize from the comfort of their homes. This free service is open to all self-identified LGBTQ+ elders who are looking for greater social connection. Sign up is open here.
Fighting Financial Insecurity
The discrimination our elders have faced often impacts their opportunities for education, employment, and more. This means our elders often endure financial insecurity later in life; one-third of LGBTQ+ elders live at or below 200% of the federal poverty line. Even for those elders living above the poverty line, in general, LGBTQ+ elders cope with fewer financial resources than non-LGBTQ+ counterparts.
Financial education is one way to support elders in increasing their sense of financial stability. SAGECents is an LGBTQ+ centered financial literacy program available free online. This program is curated specifically for LGBTQ+ elders to help them meet their financial goals, whatever they may be.
In the past year, 62% of surveyed users have reduced their debt by at least $200, 51% have increased their savings by at least $200, and 39% have improved their credit score by 25 points or more. Learn more about how SAGECents can help you meet your financial goals here.
Navigating Health and Aging Services
Undergoing a surgical or medical procedure can be one of the most difficult times in a person's life. Typically, people rely on family members to help them through the process and manage their care. We know that many LGBTQ+ elders have smaller support networks than their non-LGBTQ+ peers and that their families of choice don't always look like typical families. The Create Your Care Plan: An LGBTQ+ Person's Guide to Preparing for Medical Procedures is a practical tool for LGBTQ+ elders and others who are facing surgery or another medical procedure who need or want to take control of planning for their own care.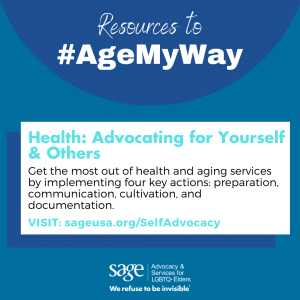 Regardless of whether you or someone you care for is undergoing a surgical procedure, going to the doctor or seeking medical care for even minor issues presents unique challenges for LGBTQ+ people. The decision to 'come out' to your provider, concerns about their reaction and approach if you do come out, or the possibility of receiving substandard care, are often top of mind. The path to securing adequate insurance coverage, researching options, and overcoming hesitation or fears of mistreatment can be overwhelming for many people. This guide shares practical advice for navigating this process and advocating for yourself and your loved ones.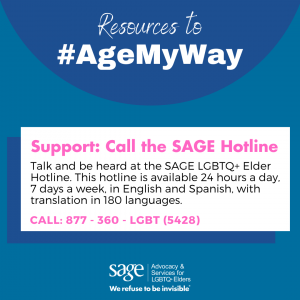 Gaining Access to Mental Health Support
As we've outlined, for LGBTQ+ elders, aging involves a convergence of radical life change compounded by the effects and continued experiences of discrimination. This takes a huge toll on the mental health of our elders. 39% of LGBTQ+ elders have had suicidal thoughts and more than 50% of LGBTQ+ elders in a national health study on LGBTQ+ elders have been diagnosed with depression. For elders that need assistance gaining access to resources or who are in crisis, we have a 24/7 hotline staffed by responders certified in crisis response who offer confidential, non-judgmental support:
877-360-LGBTQ+(5428).
Supporting LGBTQ+ Caregivers
LGBTQ+ elders are heavily reliant on families of choice and estimates currently show that LGBTQ+ caregivers make up around 9% of the population of caregivers. While caregiving can be rewarding, it comes with serious challenges: LGBTQ+ caregivers are likely to be caring in isolation, increasing levels of stress and burnout. In addition, there are significant health barriers where caregivers experience discrimination in healthcare settings or are simply not recognized as caregivers by formal services.
Hear from Bill Gross, SAGE's Assistant Director of Special Programs, about some of the challenges and joys of caregiving, and tips for caregivers to practice self-care and achieve balance.