The Silent Generation Speaks Out In New Docuseries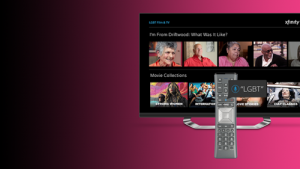 Longtime SAGE participant Sandy Warshaw will be featured in I'm From Driftwood's new elder docuseries, "What Was It Like?" airing on XFINITY on Monday, October 10 (check your local listings).
In 2015, Warshaw joined other SAGE delegates at the White House Conference on Aging, a landmark convening which considered LGBTQ+ elder issues for the first time. During her speech, Warshaw responded to passing legislation to ban discrimination in nursing homes, saying, "I do not want to have to go back into the closet." For "What Was It Like?" Warshaw and other LGBTQ+ elders are drawing attention to an all but forgotten generation with their personal accounts.
For two weeks prior to public release, XFINITY TV subscribers can enjoy both the new series and the popular I'm From Driftwood web series On Demand and online.
To find "What Was It Like" on XFINITY On Demand, subscribers can use their voice remote to access all LGBTQ+ entertainment by saying "LGBTQ+." For those with no voice remote, on X1: navigate to "Popular Destinations: LGBTQ+ Film & TV." On Native: Go to "On Demand: LGBTQ+ Film & TV." You can also find the program at xfinity.com/lgbt.
"LGBTQ+ elders have not only been asked to keep their stories and lives quiet and in the closet, but they've seen more progress in their lifetime than any other generation has or will," said Nathan Manske, Founder and Executive Director of I'm From Driftwood.
"We're incredibly grateful that Comcast and SAGE — the country's largest cable provider and the country's largest organization dedicated specifically to LGBTQ+ elders — are helping us collect and share these important stories."
I'm From Driftwood has collected more than a thousand stories since 2009.