SAGE's Housing Development Toolkit Modules 1 & 2
Publish date:
October 2020
Source:
SAGE
Topics:
Housing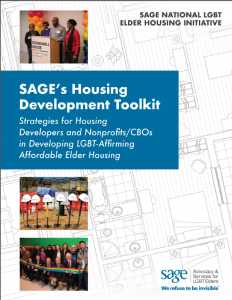 SAGE's Housing Development Toolkit: Strategies for Housing Developers and Nonprofits/CBOs in Developing LGBT-Affirming Affordable Elder Housing will provide a comprehensive roadmap through the entire development process.
Modules 1 and 2 focus on community outreach, engagement, and involvement regarding buy-in strategy and reaching tenants in need.
Please download the toolkit for more information, and leave us your email if you would like to be notified when the next module is released!