Providing Services to Transgender Older Adults: Tips for SMP Staff and Volunteers
Publish date:
2013
Source:
SAGE, Empowering Seniors to Prevent Healthcare Fraud
Topics:
Health Care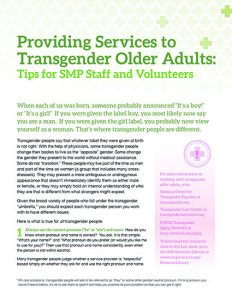 Transgender people say that whatever label they were given at birth is not right. With the help of physicians, some transgender people change their bodies to live as the "opposite" gender. Some change the gender they present to the world without medical assistance. Some do not "transition." These people may live part of the time as men and part of the time as women (a group that includes many cross- dressers). They may present a more ambiguous or androgynous appearance that doesn't immediately identify them as either male or female, or they may simply hold an internal understanding of who they are that is different from what strangers might expect.