Drawing on his faith, an advocate for LGBTQ+ older adults
"Tragically, some traditional religions have often been part of the problem of discrimination toward people from the LGBTQ+ community," says Randy Block of Royal Oak, Michigan. Block works as the Director of Michigan Unitarian Universalist Social Justice Network (MUUSJN), a statewide faith-based social justice network through which he organizes efforts to protect LGBTQ+ people from unfair treatment.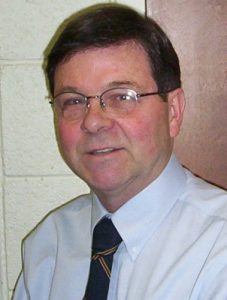 "[Traditional religious institutions] have often supported Religious Freedom Restoration Act laws, which sanction discrimination toward women and people from the LGBTQ+ community in the name of religion. In my more progressive religious tradition, we affirm that all people, regardless of age, sex or gender identity, should be valued and treated with dignity," says Block.
"Religion can be a big part of the problem in terms of discrimination against the LGBTQ+ community," he says. "So we work in interfaith alliances to send a stronger voice that works for justice with and on behalf of the LGBTQ+ community. We want to counteract the far-right, discriminatory religious groups. They're claiming religious freedom, but freedom to discriminate is different from having the freedom of religion," Block explains. "I don't believe in the freedom to hurt or discriminate. If people really followed religious teachings and loved our neighbor as ourselves, they would not want to hurt gay people or deny them the rights that anyone else has."
Much of Randy's activism for the LGBTQ+ community stems from his 30 years of experience in the aging field as a services manager and planner in Michigan, positions he worked in from 1978 until 2008. "I didn't have a close friend from the LGBTQ+ community or a family member who was gay or transgender, so I was sort of sheltered in terms of my own childhood. But embracing the values of respecting the worth and dignity of every human being, I became acquainted with people who are part of the LGBTQ+ community."
For a time, Block worked in a nursing home and saw firsthand how older people can still maintain their joy for life and enthusiasm, despite oftentimes stereotyped as withdrawn and sad. "Things are not easy if you're an older person. People tend to discount you as 'less than.' For people to assume that you don't know something just because you're older, that's ageism—a negative assumption about aging, just as there are negative assumptions about the LGBTQ+ community."
Randy's goal through his work is to not only advocate for older LGBTQ+ adults but also to build a strong community of allies that will stand up the rights of all people.
"We have a moral commitment to address discrimination toward LGBTQ+ people as well as other people who are unfairly treated based on their color of their skin, their gender or their income. As we work to make our society more just, we need to recommit ourselves to creating a world that allows all people to reach their highest potential. People should not be held back simply for being who they are," he says.