Caregiving Around the Clock: National Family Caregivers Month and Resources for the LGBT Community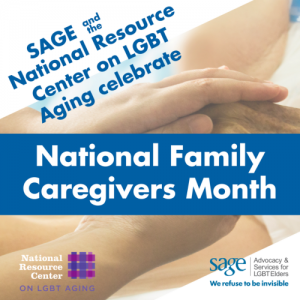 Each November we recognize National Family Caregivers Month. As the theme for this year makes clear, many of us are aware that caring for a spouse/partner, family member, or friend is often a 24/7 commitment of caregiving around the clock.
SAGE recognizes the importance of caregiving and planning within the LGBT community. A 2015 AARP report indicates 9 percent (3 million) of the 34.2 million Americans who provide unpaid care to another adult over the age of 50 identify as LGBT.  Additionally, LGBT older adults are less likely to have children and more likely to live alone, meaning that friends or families of choice often step in to provide care and support for LGBT older adults. And while we may anticipate becoming a caregiver for a loved one, we may put off thinking about our own caregiving needs should we have surgery or an illness that requires support from others.
During National Family Caregivers Month, SAGE is excited to introduce two new guides designed to help support the LGBT older adult caregiving community. The first guide, "Caregiving in the LGBT Community: A Guide to Engaging and Supporting LGBT Caregivers Through Programming," provides an overview of caregiving in the LGBT community, along with specific ideas, lessons learned, and best practices for expanding programs to support LGBT caregivers and those caring for LGBT older adults. The second guide, "Create Your Care Plan: An LGBT Person's Guide to Preparing for Medical Procedures," is designed to help LGBT older adults prepare for surgery or a chronic illness by putting a plan in place for their medical team and caregivers. This guide includes planning worksheets, resources, and tips for getting on the road to a successful recovery. Care-planning worksheets are also available for download.
Take time during National Family Caregivers Month to read through these resources and share with others in your community who may benefit from them. We also recognize that caregiving and recovery from a medical procedure can often be a stressful time. While you may find yourself caregiving around the clock, you are not alone. SAGE's LGBT Elder Hotline (1-888-234-SAGE) offers peer support and additional resources. The National Resource Center on LGBT Aging has a resource page dedicated to caregiving. Together, we can equip ourselves with the knowledge and resources to provide care and support to our LGBT family. —Sherrill Wayland