Building LGBTQ+ Elder Housing: From Concept to Completion
By Serena Worthington 
Registration is open for our final webinar in a five-part series on LGBTQ+ elder housing:
FREE WEBINAR
Building LGBTQ+ Elder Housing: From Concept to Completion
June 2, 2016 2:00 pm EST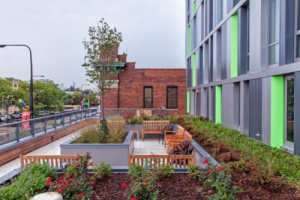 Given the diversity of needs and range of financial ability in LGBTQ+ elder communities, there is a clear necessity for the continued development of housing options for LGBTQ+ elders and a need for both non-profit and for-profit developers to work on housing options. Join this panel of pioneers of LGBTQ+ inclusive housing projects as they share their successes and challenges developing a range of models that support elders. LGBTQ+ elders don't want to retreat into the periphery as they age – they want and need to be social and to engage with an intergenerational and diverse community. Hosted by SAGE (Services and Advocacy for Gay, Lesbian, Bisexual and Transgender Elders) and Enterprise Community Partners the panel is moderated by Serena Worthington, Director of National Field Initiatives for SAGE and features the following presenters.

Birds of a Feather Community, Pecos, NM
Bonnie McGowan, Founder
John C. Anderson Apartments, Philadelphia, PA
Mark Segal, Publisher, Philadelphia Gay News
Mary's House for Older Adults, Washington DC
Dr. Imani Woody, Founding Director/CEO

Montrose Center Proposed Senior Housing, Houston, TX
Ann Robison, Executive Director and Chris Kerr, Clinical Director 
Los Angeles LGBTQ+ Community Center, Los Angeles, CA

Triangle Square 
Tripp Mills, Deputy Director, Senior Services and Steven Burn, Project Manager
SAGE (Services and Advocacy for GLBT Elders)
Michael Adams, Chief Executive Officer

Town Hall on Halsted, Chicago, IL
Britta Larson, Senior Services Director
At SAGE, we have found that one of the biggest issues facing many LGBTQ+ older adults across the country is finding welcoming, safe, affordable housing. Due to higher levels of financial insecurity among LGBTQ+ older people and a general lack of affordability in the residential real estate market, many LGBTQ+ elders find that they struggle to afford to live in the communities that they have called home for decades. In addition, many face marginalization, discrimination and even harassment in their homes and in long-term care settings from aging professionals, other residents, and sometimes even their own family members.
Please join our panelists to learn about existing and planned LGBTQ+ older adult inclusive projects that make important contributions to providing safe and affirming housing and raising visibility about LGBTQ+ elder housing needs.  
Building LGBTQ+ Elder Housing: From Concept to Completion
June 2, 2016 2:00 pm EST
This webinar is the last in a five-part series. View the previous webinars and learn more about our National LGBTQ+ Elder Housing Initiative at the links below.
SAGE's Initiative provides five strategies to expand housing opportunities for LGBTQ+ older people.
Building LGBTQ+ elder housing and sharing SAGE's expertise from such projects;

Training existing housing facilities to provide housing in an LGBTQ+-welcoming, non-discriminatory manner;

Changing public policies to clear the way for more LGBTQ+ elder housing and bar housing discrimination against LGBTQ+ older people;

Educating LGBTQ+ older people in how to look for LGBTQ+-friendly housing and how to exercise their rights; and

Expanding LGBTQ+-friendly services available in housing sites across the country.
Serena Worthington is Director of National Field Initiatives at SAGE. Follow Serena on Twitter @SerenaWorthy.